Aton Announces New Regional Exploration Results From The Sir Bakis Prospect
---
Vancouver, September 13, 2017: Aton Resources Inc. (AAN: TSX-V) ("Aton" or the "Company") is pleased to provide investors with an update on their regional exploration activities, specifically at the Sir Bakis prospect, currently underway at the Company's 100% owned Abu Marawat concession ("Abu Marawat" or the "Concession"), located in the Eastern Desert of Egypt.
Highlights:
Field inspection of the Sir Bakis prospect (see Figure 1) has indicated the presence of widespread gold mineralization, over an area covering at least 1800m x 900m in size; indicating potential for the development of reduced intrusive related gold (RIRG) mineralization in the Sir Bakis area, associated with individual shear veins and sheeted vein systems;
Initial grab and channel sampling from the Sir Bakis area has returned assays up to 150 g/t Au and 32.9 g/t Au from grab samples, and 29.5 g/t Au from channel samples;
First pass surface trenching at the Sir Bakis prospect has returned a highly anomalous surface intersection of 109.1m @ 0.21 g/t Au;
First pass regional reconnaissance has identified a new target area, the Black Gaharish prospect, and an initial sample returned an assay grade of 16.5 g/t Au.
Mark Campbell, President and CEO of Aton, commented "Most companies would be happy to have a single exploration district, whereas we have multiple districts at our Abu Marawat Concession area, each with unique geological characteristics. The recent exciting results from Sir Bakis prospect area, and at the old Sir Bakis mine demonstrate the huge exploration potential of the newly identified reduced intrusive related gold mineralization trend at Abu Marawat. We have returned similar results from Bohlog, and expect similar results from the old Semna mine, Massaghat and West Garida. Along with our recent new VMS discovery at Waayrah, which lies within the Waayrah-Miranda VMS trend, the potential overall scale of our Abu Marawat license area is impressive. The work that we are doing has created targets for our upcoming autumn drilling campaign. Now that we are moving towards developing our first mines at Hamama and Abu Marawat, which we hope to see producing by the middle of 2020, the focus now is to bring more of our projects on stream over time."
Sir Bakis Prospect
The Sir Bakis prospect is located approximately 12km NE of the Company's Hamama West mineral deposit, and has been extensively worked in both ancient and modern times. Review of remote sensing imagery indicates the widespread occurrence of ancient workings, as well as the remains of ancient mining settlements, and there is archaeological evidence suggesting that mining dates back to the New Kingdom period, over 3,000 years ago. During the modern era a British company, Eridia (Egypt) Exploration Company, mined at Sir Bakis between 1904 and 1906. The remains of the old processing plant, various other mine buildings, a tailings pile, and 2 open adits, which access the underground stopes are evident at Sir Bakis (see Figure 2), dating back to the modern phase of exploitation.
The Main Vein at Sir Bakis, which was the focus of the modern underground mining, can be traced at surface for a distance of some 1.6km in a N-S strike direction. The Main Vein is considered to be a shear vein and was mined at widths of up to 1.5m underground. Approximately 600m NW of the adits there is a zone of narrow sheeted veins which has been worked extensively at surface to shallow depths in ancient times, known as the NW Vein Swarm. The Vein Swarm is approximately 400m along its' N-S strike length at surface, and in excess of 100m in width. There are also a number of other major veins in the area, to the NW of the modern mine workings, and numerous smaller veins and shears through the area which have been worked by the ancients. Limited previous sampling at Sir Bakis by the Company in 2014 has returned assays of 4.79 g/t Au from underground, and 2.38 g/t Au from surface channel sampling.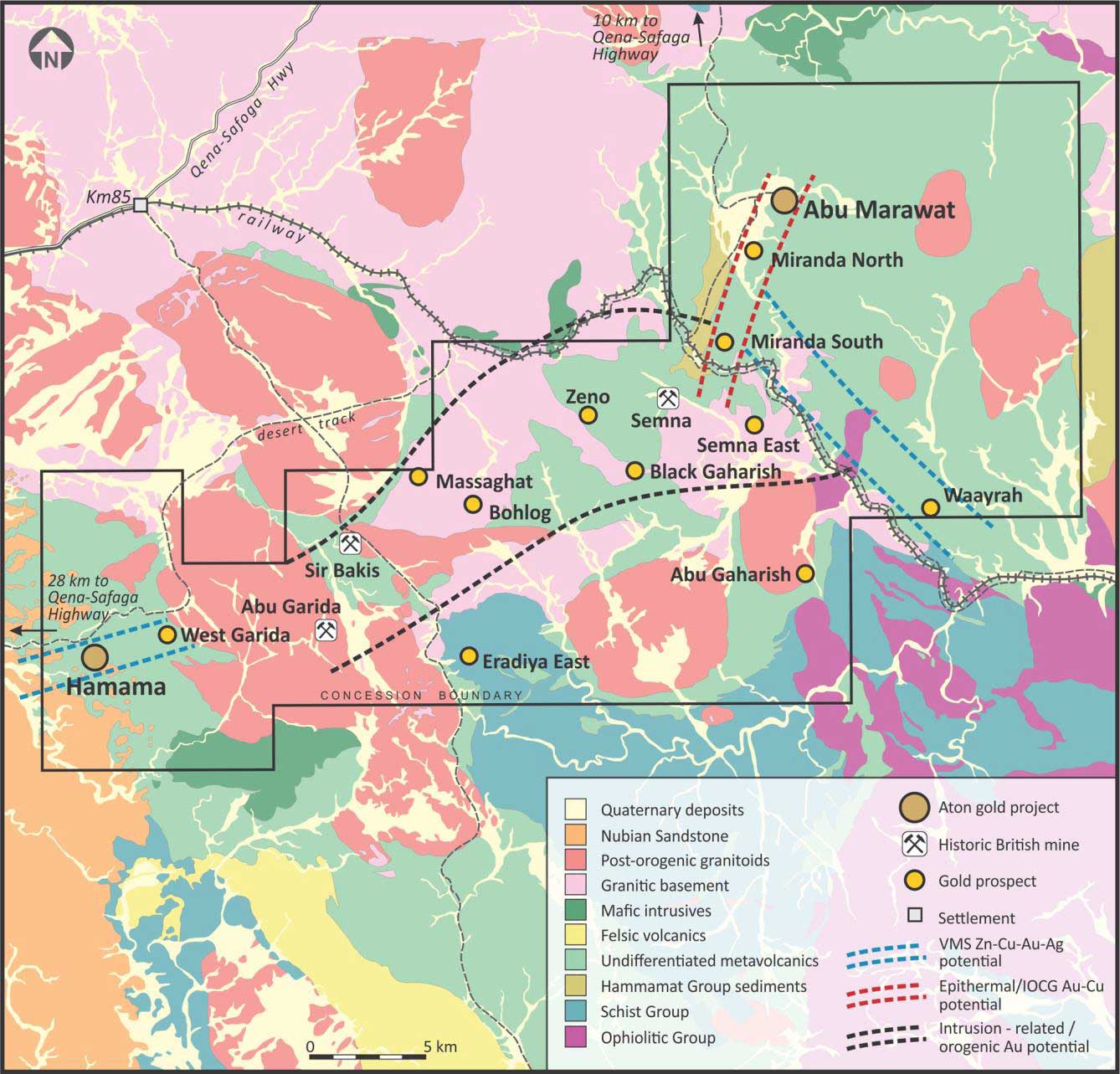 Figure 1: Abu Marawat regional geology, showing the location of Sir Bakis
The mineralization at Sir Bakis predominantly occurs in older basement granodiorites, and is spatially associated with a series of younger granite plutons, including the Ria al Jarrah pluton which outcrops to the north of Sir Bakis (see Figures 1 and 2). There is considerable hornfelsing and contact metamorphism of basement volcanic rocks by the younger intrusive plutons. The younger plutons are considered to represent evolved magmas, displaying aplitic textures in the immediate Sir Bakis area, and are associated with modern tungsten mining at Abu Garida (see Figure 1), and also fluorite mining at a site between Abu Garida and Hamama, to the SW of Sir Bakis. Mineralization at Sir Bakis is primarily located in basement granodiorites, and is typically low sulphide in nature, with only limited amounts of accessory arsenopyrite and pyrite. Previous sampling by the Company of a homogenized bulk sample of the modern tailings returned average assay values of 1.99 g/t Au, 1.71 g/t Ag, 26 ppm Cu, 91 ppm Pb and 82 ppm Zn.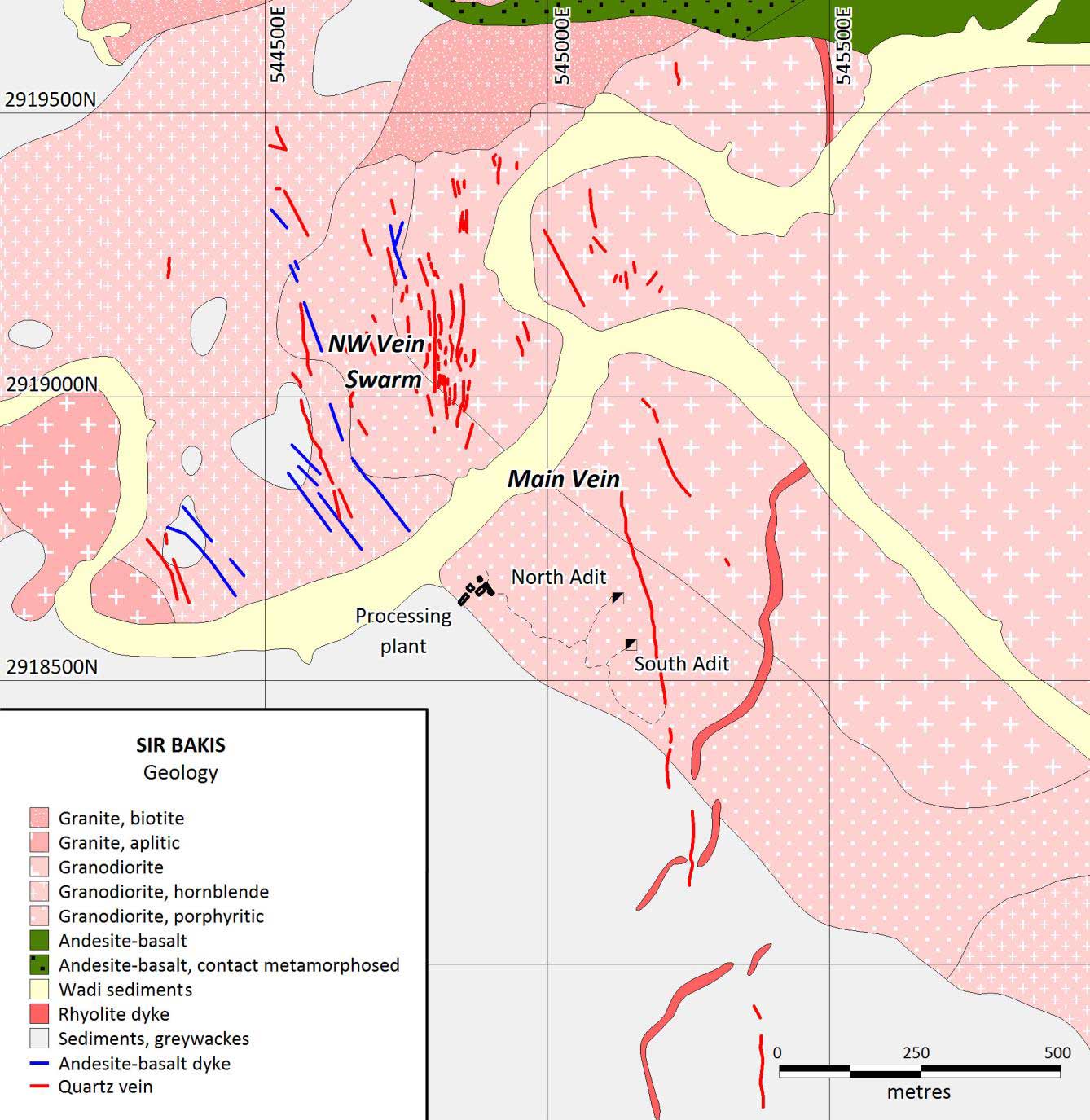 Figure 2: Geological map of the Sir Bakis prospect (after Murr, 1999)
During the first phase of recent sampling a total of 182 surface samples, predominantly channel samples, and some grab samples (see Figure 3) were collected from the general Sir Bakis area. Additionally 3 surface trenches were mechanically excavated, SBT-001 to SBT-003 for a total length of 704m, and were manually channel sampled, over nominal 2m intervals, with a total of 376 trench samples being collected. All samples were submitted to ALS Rosia Montana in Romania, and were analyzed for gold using fire assay with an atomic absorption finish, and for copper, lead, zinc and silver using an aqua regia digest with an atomic absorption finish.
The results from the initial sampling program are very encouraging, with 10% of the surface channel and grab samples returning assay grades greater than 1 g/t Au, with mineralized samples returned from all areas sampled. A single grab sample from an isolated ancient working approximately 2km NE of Sir Bakis between the modern mine and the Massaghat prospect returned an assay of 150 g/t Au. Channel samples from partially mined surface outcrops of the Main Vein returned assays of 29.5 g/t and 5.34 g/t Au; a channel sample from the westernmost vein returned an assay of 7.94 g/t Au, and a grab sample of vein quartz from the northern extension of the Main Vein workings returned an assay of 32.9 g/t Au. Results of the surface sampling are presented in Appendix A. Ag assays were typically low, as were Cu, Pb and Zn which typically had assay values less than 100ppm.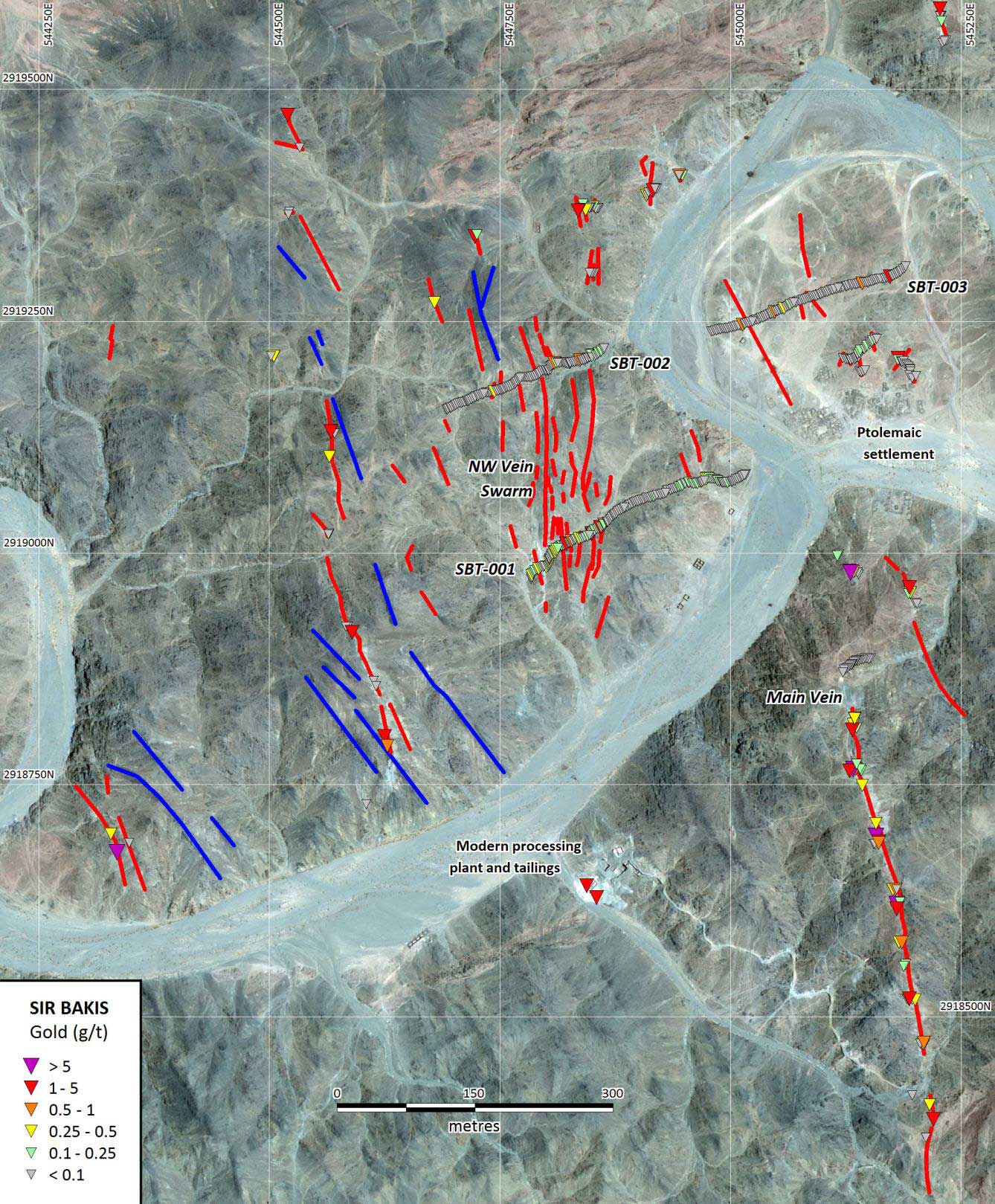 Figure 3: Sampling and trench plan of the Sir Bakis project (quartz veins: red, dykes: blue)
Results from the trenches are also encouraging with anomalous results being returned from all 3 trenches (see Table 1). The best results were obtained from the western end of trench SBT-001, (see Figure 3), which intersected a highly anomalous interval of 109.1m @ 0.21 g/t Au, over the NW Vein Swarm. The NW Vein Swarm was marked by many shallow, narrow ancient workings, typically less than a meter in width to a maximum of 3-4m depth, with the highest grade quartz veins having been removed by the ancient miners. It is therefore considered probable that the trench assays would therefore have considerably underestimated the true grade of the mineralized interval, prior to the ancient shallow mining activity.
| | | | | |
| --- | --- | --- | --- | --- |
| Trench | From (m) | To (m) | Interval (m) | Au (g/t) |
| SBT-001 | 3.5 | 112.6 | 109.1 | 0.21 |
| SBT-001 | 203.9 | 225.4 | 21.5 | 0.09 |
| SBT-001 | 234.4 | 240.9 | 6.5 | 0.22 |
| SBT-002 | 57.4 | 59.4 | 2.0 | 0.26 |
| SBT-002 | 132.2 | 136.8 | 4.6 | 0.50 |
| SBT-002 | 162.2 | 162.8 | 0.6 | 0.97 |
| SBT-002 | 169.7 | 190.2 | 20.5 | 0.09 |
| SBT-003 | 34.0 | 36.0 | 2.0 | 0.58 |
| SBT-003 | 70.0 | 74.0 | 4.0 | 0.42 |
| SBT-003 | 84.0 | 86.0 | 2.0 | 0.48 |
| SBT-003 | 173.8 | 175.8 | 2.0 | 0.64 |
| SBT-003 | 203.8 | 205.8 | 2.0 | 1.24 |
Table 1 – Anomalous intersections from Sir Bakis trenches
The results of the initial phase of sampling at Sir Bakis are very encouraging and the Company believes that the mineralization identified at Sir Bakis displays strong affinities with reduced intrusion related gold (RIRG) systems, such as the proximity to evolved volatile-rich granite plutons, displaying evidence of tungsten and fluorite mineralization; gold mineralization associated with granodioritic host rocks; structural controls on mineralization in preferred orientations; the presence of narrow structurally controlled shear veins and vein swarms or sheeted vein systems; low levels of accessory sulphide minerals; and typically very low levels of silver, lead, zinc, and notably copper in the mineralization. Similar styles of mineralization have also been identified at the nearby Bohlog, Massaghat and Zeno prospects, and the Company believes that it has identified a significant belt of potential RIRG mineralization within the Concession, associated with the late granites (see Figure 1). Further follow-up field work and geochemical analysis of the mineralized samples is planned at Sir Bakis.
It is also noted that there are strong similarities between the Sir Bakis prospect and other significant gold mines and projects within the Egyptian Arabian-Nubian Shield, where mineralization is associated with high grade quartz veins and large lower grade zones of stockwork and sheeted vein mineralization, largely hosted in granitoid host rocks, such as Sukari, Fawakhir-El Sid, Hammash and possibly Anbat. AAN believes that the Arabian-Nubian Shield of Egypt has potential to emerge as a significant RIRG belt, with excellent potential within the Company's Abu Marawat Concession, associated with the post-orogenic or younger granitoid suite of late intrusives.
Black Gaharish Prospect
The new Black Gaharish prospect was identified from investigation of remote sensing imagery, and the presence of ancient workings in the area was confirmed by local Bedouin who have extensive knowledge of many ancient workings in the whole region. A brief initial field visit to the prospect area revealed the presence of numerous ancient working sites, and ancient miners huts. The prospect is located approximately 3km south of the old British mine at Semna, and some 3.5km south-east of a large but remote ancient mining settlement at Zeno. The Company has previously reported high grade assays of up to 46.9 g/t Au from Zeno (see press release dated 15 August 2012).
Mineralisation at Black Gaharish is associated with flat lying structures within intrusive granodioritic host rocks. Limited iron staining and occasional minor copper staining was observed in the mineralised quartz veins, suggesting a generally low sulphide content of the mineralisation. Mineralisation is considered to be structurally controlled and orogenic in nature, and is similar in nature to that at the Semna mine. Further workings to the north were subsequently identified from imagery, and the mineralisation is considered to be an extension of the structurally controlled gold mineralisation system at Semna, and possibly also that at Zeno were many ancient workings have been identified from imagery. A single grab sample of vein quartz from one of the ancient workings returned an assay grade of 16.5 g/t Au. Further field follow up is planned at Black Gaharish, and also at Zeno when the cooler temperatures of autumn and winter will facilitate access to this rather remote site.
Activity update:
Additional results from the preliminary field inspections and sampling conducted at the Semna and West Garida;
Crone Geophysics has completed a ground and downhole electromagnetic survey of the 6 km long prospective horizon (or the hanging wall contact) at Hamama. Interpretation of the survey data has been delayed but is now complete, and the final geophysical synthesis of all geophysics including the 2008 IP and magnetics survey completed at Hamama is expected shortly;
Phase 1 metallurgical test work conducted on Hamama West samples at ALS Metallurgy in Kamloops, BC, has been completed.
About Aton Resources Inc.
Aton Resources Inc. (AAN: TSX-V) is focused on its 100% owned Abu Marawat Concession ("Abu Marawat"), located in Egypt's Arabian-Nubian Shield, approximately 200 km north of Centamin's Sukari gold mine. Aton has identified a 40 km long gold mineralized trend at Abu Marawat, anchored by the Hamama deposit in the west and the Abu Marawat deposit in the east, containing numerous gold exploration targets, including three historic British mines. Aton has identified several distinct geological trends within Abu Marawat, which display potential for the development of RIRG and orogenic gold mineralization, VMS precious and base metal mineralization, and epithermal-IOCG precious and base metal mineralization. Abu Marawat is over 738km2 in size and is located in an area of excellent infrastructure, a four-lane highway, a 220kV power line, and a water pipeline are in close proximity.
Qualified Person
The technical information contained in this News Release was prepared by Roderick Cavaney BSc, MSc (hons), MSc (Mining & Exploration Geology), FAusIMM, SEG, GSA, SME, Vice President, Exploration, of Aton Resources Inc. Mr. Cavaney is a qualified person (QP) under National Instrument 43-101 Standards of Disclosure for Mineral Projects.
For further information regarding Aton Resources Inc., please visit us at www.atonresources.com or contact:
Mark Campbell
President and Chief Executive Officer
Tel: +1-936-689-2589
Email: mcampbell@atonresources.com
Note Regarding Forward-Looking Statements
Some of the statements contained in this release are forward-looking statements. Since forward- looking statements address future events and conditions; by their very nature they involve inherent risks and uncertainties. Actual results in each case could differ materially from those currently anticipated in such statements. Neither TSX Venture Exchange nor its Regulation Services Provider (as that term is defined in policies of the TSX Venture Exchange) accepts responsibility for the adequacy or accuracy of this release.