Aton Announces The Discovery Of A New Mineralized Zone At The Bohlog Prospect, With Assays Grading Up To 10.45 G/T Gold
---
Vancouver, December 04, 2017: Aton Resources Inc. (AAN: TSX-V) ("Aton" or the "Company") is pleased to provide investors with an update on exploration activities at the Bohlog, Massaghat and East Eradiya prospects, currently underway at the Company's 100% owned Abu Marawat Concession ("Abu Marawat" or the "Concession"), located in the Eastern Desert of Egypt.
Highlights:
Channel and grab sampling has identified a new mineralised zone in the Bohlog area, Zone 5, approximately 2km SE of the main Zone 1 mineralization, with samples assaying up to 10.45 g/t Au;
Channel and grab sampling at the Massaghat prospect, has returned channel profile intersections of up to 2.7m @ 7.06 g/t Au, and 20.9 g/t Au, respectively.
Trenching has commenced at the East Eradiya prospect, and has identified the presence of ancient rubble-filled workings concealed under wadi sediments, suggesting the possible development of a significant zone of buried near-surface shallowly dipping shear-hosted mineralization
"The hits just keep on coming! Both Bohlog and Massaghat have real legs to them. I believe that it would be hard to find a company that has more upside exploration potential in any concession then we have in our 7382 km land package" says Mark Campbell President and CEO. "Our exploration team continues to identify new mineralized areas and we are now working on prioritizing these targets into a comprehensive drilling program. We have found that gold mineralization is associated with base metals and silver in VMS-epithermal hybrid and VMS deposits such as at Hamama and Waayrah, and in an epithermal deposit at Abu Marawat. But there is also a diverse variety of orogenic lode gold type deposits in the Concession such as the shear-hosted quartz veins at Semna, sub-vertical veins at Sir Bakis, and narrow high grade flat-lying veins associated with phyllic altered rhyolites at West Garida, and possibly also at East Eradiya. Gold mineralization occurs in a potential reduced intrusion related gold sheeted vein system at Sir Bakis, is associated with tungsten at Abu Gaharish and possibly Bohlog, and with copper in IOCG vein type mineralization at Miranda South. The extension to our exploration license will allow us the time to continue evaluating and developing these areas. We are currently also working diligently on the preparation of our study to secure our 20 year mining license at Hamama. So with our move towards a mining license at Hamama, the results from Bohlog and Massaghat coupled with the amazing discovery of previously unreported extensive underground ancient workings at East Eradiya, there is real excitement at our Abu Marawat Concession area."
Bohlog Prospect
Bohlog is located approximately 17km ENE of Hamama (see Figure 1) and is centred around an area of ancient workings near the ruins of a large settlement, suggesting that it was historically a significant mining area. In 2012 the Company carried out limited sampling in the Bohlog area (see news release dated August 15, 2012), returning gold grades of up to 18.65g/t Au from samples of mineralized quartz veins. Earlier in 2017 Aton's field crews followed up this initial work, carrying out a programme of grab and channel sampling which returned assays of up to 21.1 g/t Au, and identified 4 separate mineralized zones, and visible gold in several samples (see news release dated June 7, 2017).
Subsequently, Aton's geologists and field crews have completed a further phase of sampling and geological mapping at the Bohlog prospect. The Bohlog mineralization is spatially related to the Bohlog granite (see Figure 2), which is intruded into early orogenic basement 'grey granites', comprising primarily granodioritic rocks in the immediate Bohlog area. Compositionally and in appearance the Bohlog granite and the surrounding basement granodiorites appear very similar, and the contacts are gradational and hard to identify in the field, suggesting the Bohlog granite is probably of a similar age to the orogenic 'grey granites'. It is also however possible that the Bohlog granite is related to the later, post-orogenic pink 'Younger Granite' suite. The Bohlog granite weathers distinctively differently to the surrounding granodiorites, implying chemical and compositional differences. The Bohlog granite has superficial spectral similarities to the Gaharish granite, which hosts the mineralization at Abu Gaharish, and may be genetically related (see Figure 1).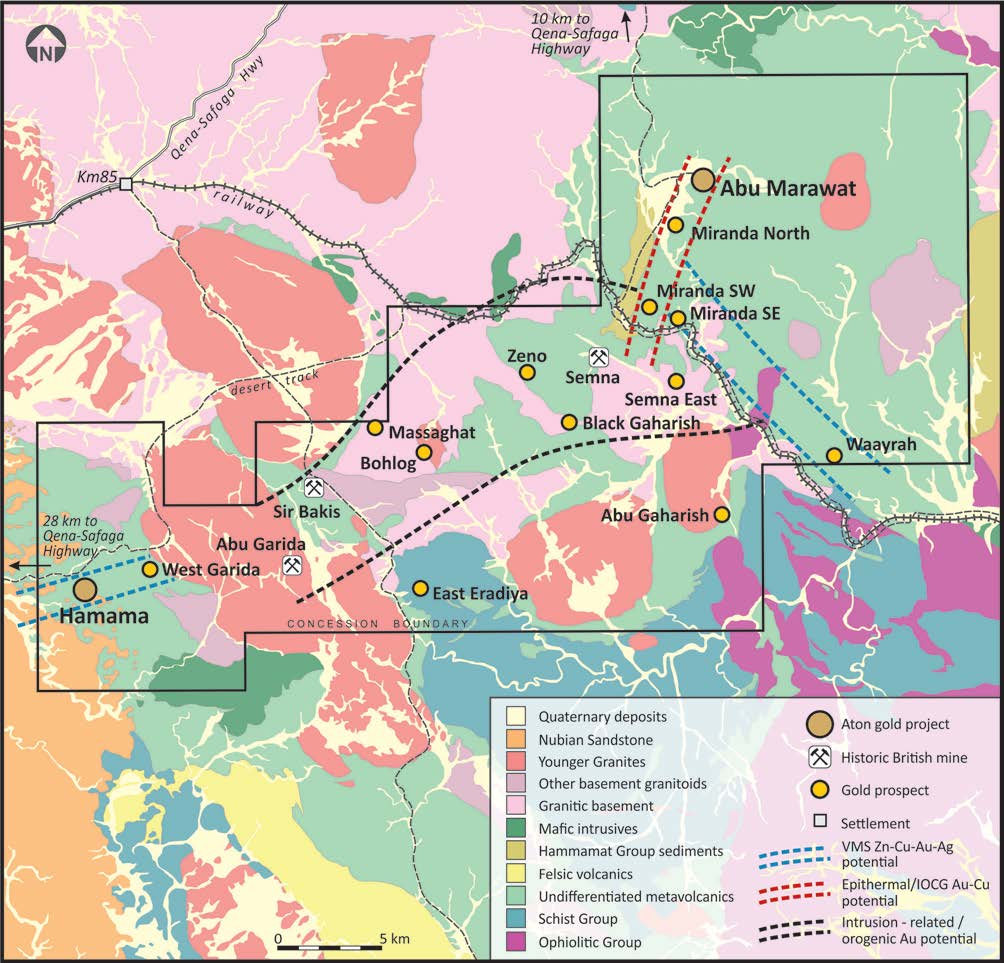 Figure 1: Abu Marawat regional geology, showing the location of the Bohlog, Massaghat and East Eradiya prospects
The Company has extended the sampling programme at Bohlog, completing further limited grab and chip channel profile sampling at Zone 3, and has identified a new zone of mineralization, Zone 5, located about 2km SE of the main Zone 1 (or Village Zone). 9 initial grab samples were collected from the new Zone 5 area, all of which bar one were mineralized, returning assays of up to 10.45 g/t Au and 4.93 g/t Au. The gold mineralization at Zone 5 is associated with shearing and quartz veins hosted in a basement diorite intrusive.
Of the 3 surface samples taken at Zone 3, one returned an assay of 2.18 g/t Au, although the 3 channel profiles completed, BOC-021 to BOC-023 returned no significant assays. Another zone of sheared quartz veins to the SW of Bohlog was identified and sampled, but all samples from this area were unmineralized.
A comprehensive summary of all the mineralized intersections from surface channel profiles sampled during 2017 is provided in Appendix A, including intersections of 12.7m @ 3.63 g/t Au (BOC-001), 2.5m @ 12.51 g/t Au (BOC-004), and 6.0m @ 3.04 g/t Au (BOC-005) from Zone 1, and 4.0m @ 4.26 g/t Au (BOC-012) from Zone 2. Full details of the grab and chip channel samples reported herein are provided in Appendix B.
Another zone of ancient workings, Zone 6, has also been identified about 700m north-west of the Village Zone, and a number of surface samples have been collected from this area. A series of follow-up chip channel profiles have been sampled at Zone 5, and 7 machine-dug trenches have been excavated to test the mineralization in Zones 1 and 2, with samples dispatched for analysis. Assay results are pending.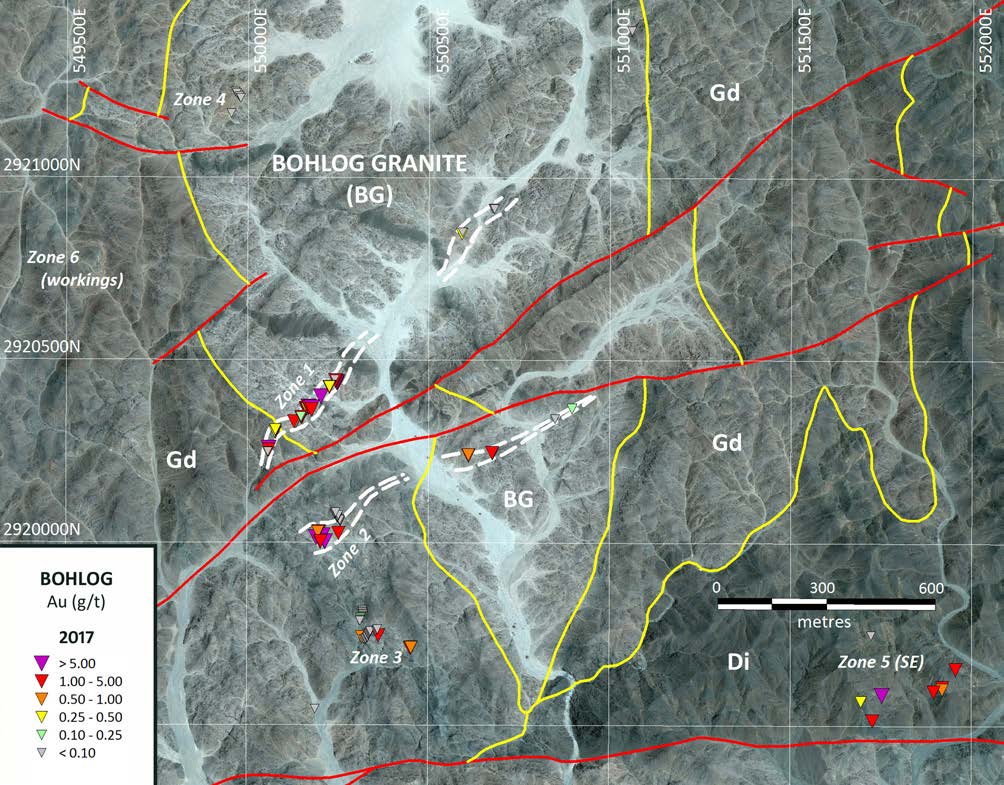 Figure 2: Interpreted geology and 2017 sampling plan of the Bohlog project (legend: BG - Bohlog granite; Gd – granodiorite; Di – diorite; red – interpreted and mapped faults, yellow – interpreted geological contacts)
The quartz vein mineralization at Bohlog occurs both within the Bohlog granite, and also the surrounding granodioritic to dioritic basement rocks, and is associated with structurally controlled zones of stringer and stockwork style mineralization displaying intense phyllic alteration. Accessory minerals include minor supergene lead species, and occasional tungsten minerals and copper staining. The geological setting, with mineralization close to the margin of a later granite intrusion, a distinctive Au-W-Pb-Cu metallogenic signature, and strong structural controls suggests a similarity to the mineralization at Abu Gaharish (see news release dated June 7, 2017). The geological setting of the mineralization, the nature and the composition of the alteration, and the metallogenic signature continue to suggest a possible reduced intrusion related affinity to the Bohlog mineralization.
Massaghat Prospect
The Massaghat prospect is located approximately 15km ENE of Hamama, and about 2.5km WNW of Bohlog (see Figure 1). The Company sampled the area in 2012, returning assays of 470 g/t Au and 17.9 g/t Au (see news release dated August 15, 2012).
Aton's field crews have carried out further chip channel profile and grab sampling from the general Massaghat area, collecting a total of 63 chip channel samples from 18 channel profiles (MGC-001 to MGC-020), averaging 6.3m in length, 21 individual chip channel samples, and 2 grab samples (see Figure 3). Mineralized intersections from the surface channel profiles are tabulated in Appendix C, and details of the grab and chip channel samples reported herein are provided in Appendix D.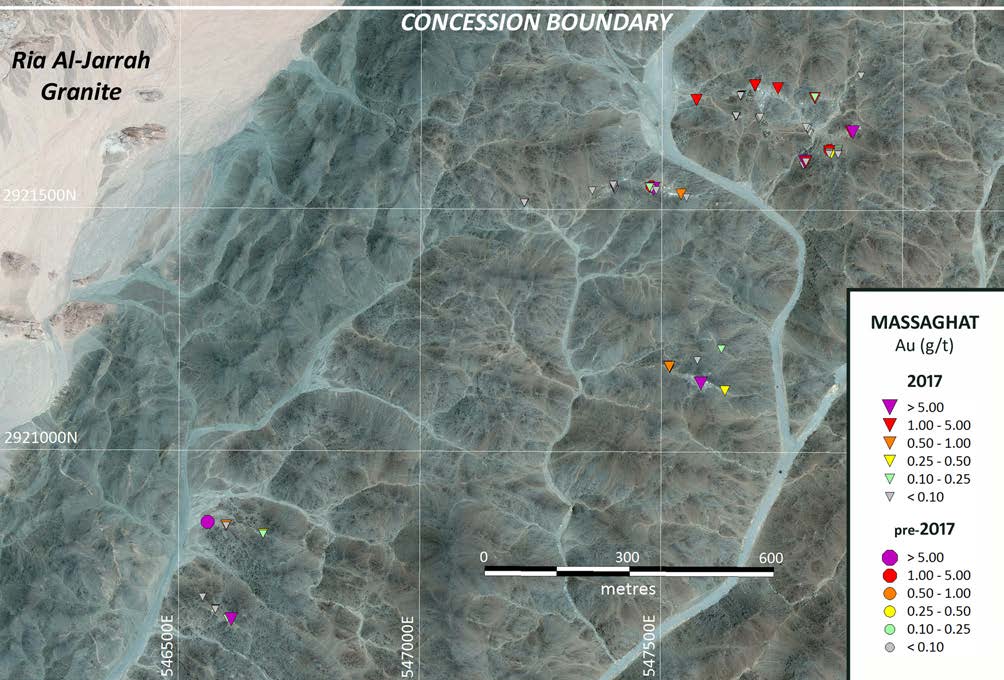 Figure 3: Sampling plan of the Massaghat prospect (modified from Google Earth)
Channel sample profiles from Massaghat returned mineralized intersections of up to 2.7m @ 7.06 g/t Au, and grab and individual chip channel samples returned assays of up to 20.90 g/t and 6.24 g/t Au, respectively. The mineralization at Massaghat appears to be largely restricted to narrow quartz veins, in sericite-albite-epidote altered dioritic basement ('grey granite' suite) associated with localised shearing. The general mineralized trend at Massaghat trends approximately NE-SW and roughly parallels the contact of the large Ria al-Jarrah granite pluton, a distinctive late, pink 'Younger Granite' (see Figure 3).
All samples reported were were analyzed for gold at ALS Minerals at Rosia Montana, Romania by fire assay, using analytical code AA-Au23 (repeated by AA-Au25 for samples which returned gold grades greater than 10 g/t Au).
East Eradiya Prospect
Following on from the recent identification of potentially extensive ancient underground workings at the East Eradiya north zone, located 15km east of Hamama (see news release dated November 22, 2017) a programme of deep trenching has commenced at East Eradiya. To date 2 trenches have been excavated and appear to confirm the initial interpretation of a heavily altered shallowly east-dipping shear zone hosting the
mineralization, in a sequence of metavolcanic host rocks. The trenching has shown that the area is covered in shallow wadi sediments, averaging about 0.5m in thickness. Ancient underground workings have been identified in both trenches completed to date, although they have collapsed, and have been infilled with rubble, and wadi sediments. The curious crater-like ring dumps are confirmed to be in at least some cases collapsed vertical shafts, and horizontal drives off these shafts have been identified in the trenches. The ancient workings uncovered in the first two trenches do not appear to be located on the same structure, supporting the theory that the mineralization at East Eradiya is hosted in a series of multiple quartz veins within the broader shear zone.
Trenching has started at the southern end of the zone, and the increasing density of ring dumps to the north suggests a greater frequency of structures and potential mineralization to the north. Mapping of the trenches has indicated a broad zone of pale colored, highly altered, weathered and sheared rock, possibly rhyolite. The shear fabric observed is quite shallow, and the richer worked out mineralized zones appear to be parallel to the shear fabric. The mineralized zones are accompanied by the development of iron staining after sulphides, and there are numerous iron stained, fabric-parallel bands some of which have narrow zones of associated quartz stringer veining. The initial trenching, which is ongoing, has indicated the development of a potentially significant system of shallow-dipping shear zone-hosted mineralization.
Activity update:
Metallurgical testwork on the four 120kg bulk composite samples of oxide and transitional mineralized material from the Hamama West deposit delivered to Wardell Armstrong International in the UK continues, with coarse bottle roll and agitated leach tests on the samples having been completed with encouraging results. Percolation and agglomeration testing has also been completed, the results of which suggest that little or no agglomeration of the Hamama West oxide and transitional ore types will be required. Column leach tests have been started.
Cube Consulting continue work on a revised mineral resource estimate for the Hamama West deposit. This revision will incorporate the results of the spring 2017 drilling programme, and will include also results from the Crocs Nose Zone to the SW of the Hamama West Main Zone, which was not included in the maiden mineral resource estimate.
A deep ground penetrating radar geophysical survey has recently been undertaken and completed over the Waayrah, Miranda VMS, Abu Gaharish, Sir Bakis, Semna, Bohlog and East Eradiya prospects, with encouraging preliminary results. Detailed interpretation of the results continues, and it is anticipated that the final report on this programme will be completed within the next 2-3 weeks.
Further sampling programs have now been completed over several of the regional target areas, including the Sir Bakis, Abu Gaharish and Waayrah prospects, and results from these sampling programs will be reported shortly. Field assessment and sampling of spectral targets in the local Hamama area continues.
About Aton Resources Inc.
Aton Resources Inc. (AAN: TSX-V) is focused on its 100% owned Abu Marawat Concession ("Abu Marawat"), located in Egypt's Arabian-Nubian Shield, approximately 200 km north of Centamin's Sukari gold mine. Aton has identified a 40 km long gold mineralized trend at Abu Marawat, anchored by the Hamama deposit in the west and the Abu Marawat deposit in the east, containing numerous gold exploration targets, including three historic British mines. Aton has identified several distinct geological trends within Abu Marawat, which display potential for the development of RIRG and orogenic gold mineralization, VMS precious and base metal mineralization, and epithermal-IOCG precious and base metal mineralization. Abu Marawat is over 738km2 in size and is located in an area of excellent infrastructure, a four-lane highway, a 220kV power line, and a water pipeline are in close proximity.
Qualified Person
The technical information contained in this News Release was prepared by Roderick Cavaney BSc, MSc (hons), MSc (Mining & Exploration Geology), FAusIMM, GSA, SME, Vice President, Exploration, of Aton Resources Inc. Mr. Cavaney is a qualified person (QP) under National Instrument 43-101 Standards of Disclosure for Mineral Projects.
For further information regarding Aton Resources Inc., please visit us at https://www.atonresources.com/ or contact:
Mark Campbell
President and Chief Executive Officer
Tel: +1-936-689-2589
Email: mcampbell@atonresources.com
Note Regarding Forward-Looking Statements
Some of the statements contained in this release are forward-looking statements. Since forward-looking statements address future events and conditions; by their very nature they involve inherent risks and uncertainties. Actual results in each case could differ materially from those currently anticipated in such statements.
Neither TSX Venture Exchange nor its Regulation Services Provider (as that term is defined in policies of the TSX Venture Exchange) accepts responsibility for the adequacy or accuracy of this release.