Aton Returns 28 Metres Of 2.84 Grams Per Tonne Gold Equivalent From Hamama West, Including 4 Metres Of 6.05 Grams Per Tonne Gold And 376 Grams Per Tonne Silver
---
Vancouver, May 18, 2017: Aton Resources Inc. (AAN: TSX-V) ("Aton" or the "Company") is pleased to report the results of the final eight drill holes from the recently completed 12-hole diamond drill program, totaling 1975 metres, at Hamama West. Hamama West is one of three zones that comprise Hamama, located within the Company's 100% owned Abu Marawat concession ("Abu Marawat" or the "Concession") in the Eastern Desert of Egypt.
Highlights:
All eight drill holes intersected mineralization (see Table 1), with drill hole HAD-012 returning 22.0 metres of 2.73 grams per tonne gold equivalent (g/t AuEq).
Drill holes HAD-005, 010, 011, and 012 confirm the continuation of wide zones of sulphide mineralization outside of the existing mineral resource at Hamama West (see Figure 1).
Drill hole HAD-007 returned 28.0 metres of 2.84 grams per tonne g/t AuEq, including 4 metres of 6.05 grams per tonne gold and 376 grams per tonne silver, from the Crocs Nose Zone, which is not included in the existing mineral resource estimate (see Figure 2).
The drill results confirm that sulphide mineralization continues along strike on the eastern flank of the Main Zone (MZ), which means that there is significant potential to increase resources in this area.
Table 1: Hamama West drill results
Hole ID
From
(m)
To
(m)
Interval
(m)
Au
(g/t)
Ag
(g/t)
AuEq
(g/t)*
Zn
(%)
HAD-005
70.0
91.4
21.4
1.08
30.4
1.52
0.38
HAD-006
37.0
38.0
1.0
0.80
18.9
1.07
0.05
and
39.0
44.0
5.0
0.00
0.7
0.02
0.70
HAD-007
7.0
35.0
28.0
1.65
82.7
2.84
0.02
incl.
7.0
16.0
9.0
2.20
8.2
2.32
0.03
incl.
31.0
35.0
4.0
6.05
376
11.41
0.00
HAD-008
42.0
48.0
6.0
0.01
3.4
0.06
1.05
HAD-009
84.0
88.0
4.0
0.08
13.3
0.27
0.64
HAD-010
129.0
177.5
48.5
0.80
15.5
1.02
0.18
incl.
129.0
133.0
4.0
0.46
11.9
0.63
0.03
incl.
136.0
141.0
5.0
0.90
40.7
1.48
0.75
incl.
144.0
177.5
33.5
0.91
13.5
1.10
0.12
HAD-011
91.0
138.0
47.0
0.61
31.0
1.06
0.15
incl.
91.0
114.0
23.0
0.31
42.3
0.92
0.20
incl.
114.0
138.0
24.0
0.90
20.2
1.19
0.11
HAD-012
109.0
112.0
3.0
1.30
102
2.77
0.68
and
136.0
158.0
22.0
0.87
130
2.73
0.09
*Using a 0.5 g/t AuEq cut off. Gold equivalent was calculated using a 70 gold-to-silver ratio and assumes 100% metallurgical recoveries. Cautionary note: this ratio changes over time.
Holes HAD-005, 010, 011 and 012 were planned to test the potential for increasing sulphide resources on the eastern flank of the MZ at Hamama West. Today's assay results confirm that potential. Holes HAD-006 and 007 were drilled towards the south, and tested the Crocs Nose Zone, south of the Main Zone (see Figure 2). The high grade intersection from hole HAD-007 extends the mineralization previously intersected in surface trench HAT-113 and holes AHA-045 and AHA-046 (see news release dated June 9, 2015) to the east. The mineralization at the Crocs Nose Zone has only had limited testing to date, and is interpreted as being a faulted offset of the Main Zone mineralization, which strikes under the Nubian Sandstone unconformity. This zone was not included in the Hamama West resource estimate (see news release dated January 24, 2017) and the new drilling results confirms the potential to delineate additional near surface resources in this area.
"We're very pleased with the drill results from this campaign," said Mark Campbell, President and CEO of Aton. "Not only did it return some of the highest-grade intercepts to date from Hamama West but the results from the eastern flank of the Main Zone and the Crocs Nose Zone demonstrate how we can continue to grow resources at Hamama West. Exploration activity is slowing down in anticipation of Ramadan but we still have lots of exploration results to report from the regional exploration program which will demonstrate the district scale potential of the Abu Marawat Concession."
Figure 1: Hamama West long projection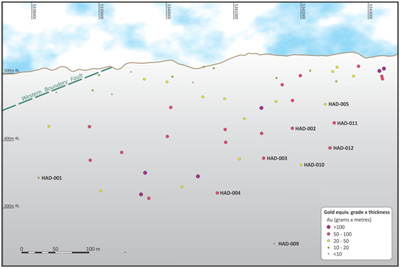 Figure 2: Drill hole collar plan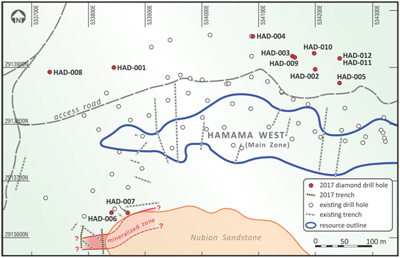 Figure 3: Cross section 534250 East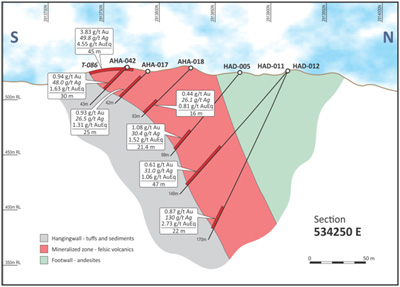 Figure 4: Cross section 534200 East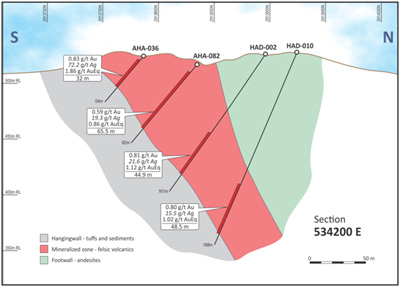 Activity update:
Continued regional exploration results;
Metallurgical test work in preparation of a Preliminary Economic Assessment for Hamama West;
Activity at Hamama Camp is slowing down in anticipation of Ramadan, May 26-June 28.
About the Hamama deposit
The Hamama deposit ("Hamama") is located at the western end of the 40-km long gold trend at the Abu Marawat Concession and is comprised of three zones, Hamama West, Hamama Central and Hamama East. Hamama West hosts an Inferred Mineral Resource of 341,000 ounces' gold equivalent ("AuEq") and an Indicated Mineral Resource of 137,000 ounces AuEq (see news release dated January 24, 2017). The mineralized horizon at Hamama has a strike length of approximately 3-km and mapping indicates that the prospective horizon (or the hanging wall contact) may be over 6-km long. Other potentially mineralized horizons, separate from the main mineralized horizon, have also been mapped in the general Hamama area.
About Aton Resources Inc.
Aton Resources Inc. (AAN: TSX-V) is focused on its 100% owned Abu Marawat Concession ("Abu Marawat"), located in Egypt's Arabian-Nubian Shield, approximately 200-km north of Centamin's Sukari gold mine. Aton has identified a 40-km long gold trend at Abu Marawat, anchored by the Hamama deposit in the west and the Abu Marawat deposit in the east. In addition to the Hamama and Abu Marawat deposits, the trend contains numerous gold exploration targets, including three historic gold mines. Abu Marawat is over 738km2 in size and is located in an area of excellent infrastructure, a four-lane highway, a 220kV power line, and a water pipeline are in close proximity.
Qualified Person
The technical information contained in this News Release was prepared by Roderick Cavaney BSc, MSc (hons), MSc (Mining & Exploration Geology), FAusIMM, SEG, GSA, SME, Vice President, Exploration, of Aton Resources Inc. Mr. Cavaney is a qualified person (QP) under National Instrument 43-101 Standards of Disclosure for Mineral Projects.
For further information regarding Aton Resources Inc., please visit us at www.atonresources.com or contact:
Mark Campbell
President and Chief Executive Officer
Tel: +1-936-689-2589
Email: mcampbell@atonresources.com
Blaine Monaghan
Vice President, Investor Relations
Tel: +1 (604) 331-5092
Email: ir@atonresources.com
Note Regarding Forward-Looking Statements
Some of the statements contained in this release are forward-looking statements. Since forward- looking statements address future events and conditions; by their very nature they involve inherent risks and uncertainties. Actual results in each case could differ materially from those currently anticipated in such statements.
Neither TSX Venture Exchange nor its Regulation Services Provider (as that term is defined in policies of the TSX Venture Exchange) accepts responsibility for the adequacy or accuracy of this release.