Aton reports 104.5 g/t gold from surface sampling at the Zeno prospect
---
Vancouver, British Columbia, June 26, 2023: Aton Resources Inc. (AAN: TSX-V) ("Aton" or the "Company") is pleased to update investors with the latest results from its recent surface sampling programmes at its regional target areas, undertaken ahead of the ongoing reverse circulation percussion ("RC") drilling programme at the Company's 100% owned Abu Marawat Concession ("Abu Marawat" or the "Concession"), in the Eastern Desert of Egypt.
Highlights:
A total of 60 selective grab samples were collected from the Zeno prospect area;
Samples returned assays including 104.5 g/t Au, 67.1 g/t Au and 43.0 g/t Au;
A further 4 samples returned assays greater than 10 g/t Au, and a further 9 samples also returned assays greater than 5 g/t Au;
The structural orientations are markedly similar to those observed at the nearby Semna gold mine;
Samples were taken in previously unsampled areas, which have been heavily exploited by artisanal miners in recent times. The results of this phase significantly expand the area of mineralised veins and structures in the Zeno prospect area.
"This is another set of very impressive sampling results from an area that we have done little work in since identifying its potential significance back in 2018. The entire Semna-Zeno area is certainly shaping up as a very high priority target, and we are looking forward to getting the RC rig up to Semna in July, and then on to Zeno to test some of these potentially very high grade structures and veins" said Tonno Vahk, Interim CEO. "Meanwhile as the RC drilling is ongoing out in the field, our external consultants Cube and Wardell Armstrong International are pushing ahead on the final submission to the Egyptian Mineral Resources Authority in support of our upcoming application for the mining licence at the Abu Marawat Concession, and which we expect to be finalised within the coming months. This continues to be a very busy period for Aton, as we get closer to the mining licence application, and these results again show the potential for the long-term development of multiple gold mines at Abu Marawat."
Abu Marawat regional sampling programme
The Company has undertaken several surface sampling programmes, as part of its preparation and planning activities for the regional RC exploration drilling programme started in May 2023 (see news release dated May 19, 2023). As previously reported all the Company's main exploration targets have recently been worked by artisanal miners, predominantly since the Company's suspension of field activities in 2020 as a result of the covid-19 pandemic, which has provided an opportunity to carry out additional sampling and mapping of the known structures, as well as previously unidentified mineralised structures that have been exploited by the artisanal miners. The Company has continued to work in close co-operation with our local Bedouin partners, and in the past 2 months has managed to successfully remove all the artisanal miners from the primary areas of interest within the Abu Marawat Concession area. Samples from the first programmes returned assays up to and including 67.5 g/t Au from Abu Gaharish, 54.9 g/t Au from Bohlog, and 27.6 g/t Au from Semna (see news release dated May 29, 2023).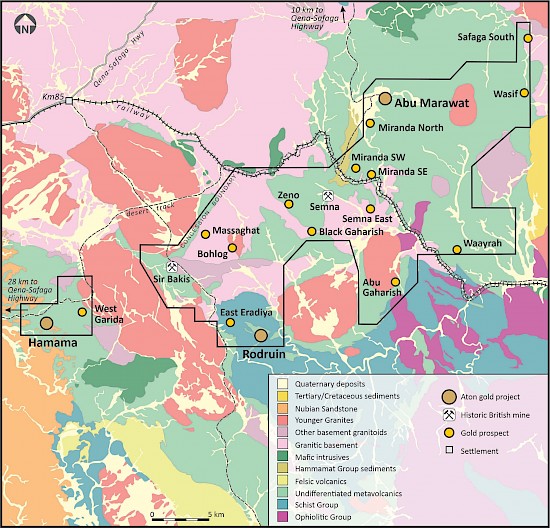 Figure 1: Geological map of the Abu Marawat Concession, showing the location of Zeno
Zeno regional sampling programme
Sampling was undertaken at the Zeno prospect area, located approximately 12 km north of its Rodruin mineral deposit and 4 km west of the old Semna gold mine (Figure 1). Artisanal miners have been very active in the general Zeno area in the previous 3 years, and have excavated numerous open pit and underground workings on what Aton believe to be potentially very high grade gold mineralised veins and structures. Previous surface sampling by Aton of visible gold and iron oxide bearing quartz veins, prior to the incursion of the artisanal miners returned assays including 117.5 g/t Au, 100.5 g/t Au, 72.3 g/t Au, 56.5 g/t Au and 48.3 g/t Au (see news release dated May 30, 2018).
Aton has recently completed a programme of selective grab sampling at Zeno, in areas to the south and west of the area sampled in 2018 (see Figure 2). A total of 60 samples were collected, including one field duplicate sample. In addition 2 QAQC samples, one blank and one duplicate sample, were inserted into the sample run sent for assaying. Selected results from the sampling programme are shown in Table 1, and full assay results are presented in Appendix A. Following the completion of this currently reported programme additional sampling has also been undertaken in the Zeno and Semna areas, and the results of this more recent work will again be reported once they become available.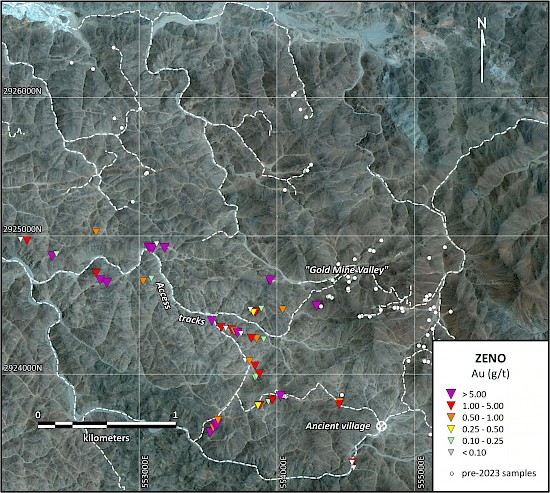 Figure 2: Zeno prospect – sample location plan
Sample ID
Project
E
N
Sample
type
Au
(ppm)
Ag
(ppm)
Cu
(ppm)
Pb
(ppm)
Zn
(ppm)
AHA-45480
Zeno
552718
2924680
Grab
17.45
0.7
179
11
199
AHA-45484
Zeno
552370
2924854
Grab
43.00
5.7
163
24
470
AHA-45489
Zeno
553951
2924679
Grab
25.50
6.4
37
6
97
AHA-45505
Zeno
553081
2924912
Grab
67.10
4.2
144
24
592
AHA-45507
Zeno
553096
2924909
Grab
13.65
0.9
88
5
654
AHA-45522
Zeno
553186
2924913
Grab
20.20
1.7
206
19
827
AHA-45532
Zeno
553553
2923625
Grab
104.50
11.5
110
22
377
Table 1: Selected surface sampling results
Discussion of results
The mineralisation worked extensively in both ancient and recent times in the Zeno area appears to consist predominantly of narrow (typically <2m) quartz veins and quartz veined shear zones, typically hosted within grey to pinkish coarse grained granodiorites. Some of the individual veins and workings can be traced for 300m or more. Previous sampling has indicated that the mineralisation is hosted within both the quartz veins and their altered and sheared wall rocks. In places the veins appear to pinch and swell with some of the underground workings reaching up to 5m width in places (see news release dated May 30, 2018).
Of the 60 samples taken in the current programme 7 (12% of the samples) returned assays greater than 10 g/t Au (see Table 1), 16 (27%) returned assays greater than 5 g/t Au, and 28 in total (47%) returned assays greater than 1 g/t Au. Visible gold was identified in several of the samples.
The current sampling programme has confirmed that gold is hosted in quartz veins and their surrounding altered and sheared wall rocks in typically narrow zones, that sometimes pinch and swell. In some places multiple veins were observed to coalesce together and anastomose, and in other areas narrow veinlets within broader altered and sheared zones returned high grades of gold mineralisation (eg. 13.65 g/t Au from sample AHA-45507. This structure also returned an assay of 67.10 g/t Au, further along strike). The quartz veins are frequently vuggy, and contain iron oxides on fracture surfaces and in cavities. The veins appear to carry only very limited primary sulphide minerals, as indicated by the low base metal levels, although traces of green copper oxide staining were occasionally observed.
The veins are typically steep, and occur in multiple orientations, however there appears to be a dominant orientation striking approximately east-southeast to east-northeast throughout the area, with the veins and shear zones generally dipping between about 60° to sub-vertically to the south. There are also a number of approximately north to north-northeast striking structures and veins, including one which returned a gold grade of 104.5 g/t (sample AHA-45532). It is noted that the style and structural setting of the Zeno mineralisation is very similar to that at the Semna gold mine, approximately 4 km to the east.
The current sampling programme has considerably expanded the mineralised area at the Zeno prospect, and has confirmed the presence of multiple high grade gold bearing veins and structures, up to several hundreds of metres long, throughout the general area.
Sample processing and analytical procedures
Samples were collected in the field by Aton's exploration teams. The selective grab samples were collected manually, and were mostly, but not entirely, collected in situ, with some samples collected from the artisanal miners' residual rock dumps and ore piles, for example.
The samples were weighed and crushed to -4mm onsite at the Rodruin sample prep facility, and split to a nominal c. 250-500g sample size. The coarse crushed reject samples are retained onsite.
The c. 250-500g dried, crushed and split samples were shipped to ALS Minerals sample preparation laboratory at Marsa Alam, Egypt where they were pulverised to a size fraction of better than 85% passing 75 microns. From this pulverised material a further sub-sample was split off with a nominal c. 50g size, which was shipped on to ALS Minerals at Rosia Montana, Romania for analysis. The reject pulps were returned from ALS, and are also retained onsite.
Samples were analysed for gold by fire assay with an atomic absorption spectroscopy ("AAS") finish (analytical code Au-AA23), and for silver, copper, lead and zinc using an aqua regia digest followed by an AAS finish (analytical code AA45). Any high grade gold samples (>10 g/t Au) were re-analysed using analytical code Au-GRA21 (also fire assay, but with a gravimetric finish).
About Aton Resources Inc.

Aton Resources Inc. (AAN: TSX-V) is focused on its 100% owned Abu Marawat Concession ("Abu Marawat"), located in Egypt's Arabian-Nubian Shield, approximately 200 km north of Centamin's world-class Sukari gold mine. Aton has identified numerous gold and base metal exploration targets at Abu Marawat, including the Hamama deposit in the west, the Abu Marawat deposit in the northeast, and the advanced Rodruin exploration prospect in the south of the Concession. Two historic British gold mines are also located on the Concession at Sir Bakis and Semna. Aton has identified several distinct geological trends within Abu Marawat, which display potential for the development of a variety of styles of precious and base metal mineralisation. Abu Marawat is 447.7 km2 in size and is located in an area of excellent infrastructure; a four-lane highway, a 220kV power line, and a water pipeline are in close proximity, as are the international airports at Hurghada and Luxor.

Qualified person

The technical information contained in this News Release was prepared by Javier Orduña BSc (hons), MSc, MCSM, DIC, MAIG, SEG(M), Exploration Manager of Aton Resources Inc. Mr. Orduña is a qualified person (QP) under National Instrument 43-101 Standards of Disclosure for Mineral Projects.

For further information regarding Aton Resources Inc., please visit us at www.atonresources.com or contact:
TONNO VAHK
Interim CEO
Tel: +1 604 318 0390
Email: info@atonresources.com

Note Regarding Forward-Looking Statements

Some of the statements contained in this release are forward-looking statements. Since forward-looking statements address future events and conditions; by their very nature they involve inherent risks and uncertainties. Actual results in each case could differ materially from those currently anticipated in such statements.
Neither TSX Venture Exchange nor its Regulation Services Provider (as that term is defined in policies of the TSX Venture Exchange) accepts responsibility for the adequacy or accuracy of this release.
Appendix A: Zeno surface sampling results