Rodruin
PHASE 1 RC DRILLING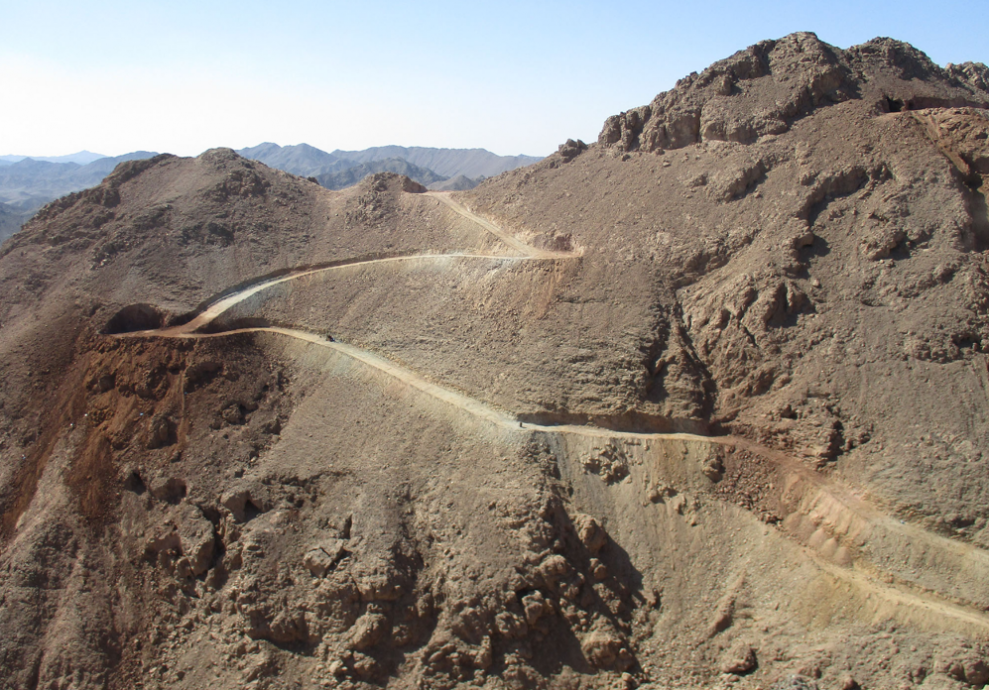 A reverse circulation percussion ("RC") drilling programme was completed at Rodruin during the final quarter of 2018, with a total of 50 holes drilled for a total of 4,125m. Most holes were quite shallow, with the maximum hole depth being only 200m. The main objective of the programme was to preliminarily test mineralization sampled and identified at surface over as wide an area of the South Ridge as possible.
The programme was successful in that virtually every hole intersected gold mineralization and/or ancient underground workings. Holes tested various mapped surface zones of mineralization including the Aladdin's Hill, Spiral Pit, Central Buttress, and the GF ("GFZ") Zones. 2 holes were drilled to the northeast from the Central Valley under the North Ridge, also intersecting mineralization. Overall, gold mineralization was identified in drilling over a surface extent of greater than 500m between Aladdin's Hill and the GFZ. The drilling has also confirmed the structural complexity of the Rodruin area, with significant folding of the sedimentary rock sequence, as well as steep to sub-vertical faulting and low-angle thrust-type faulting present.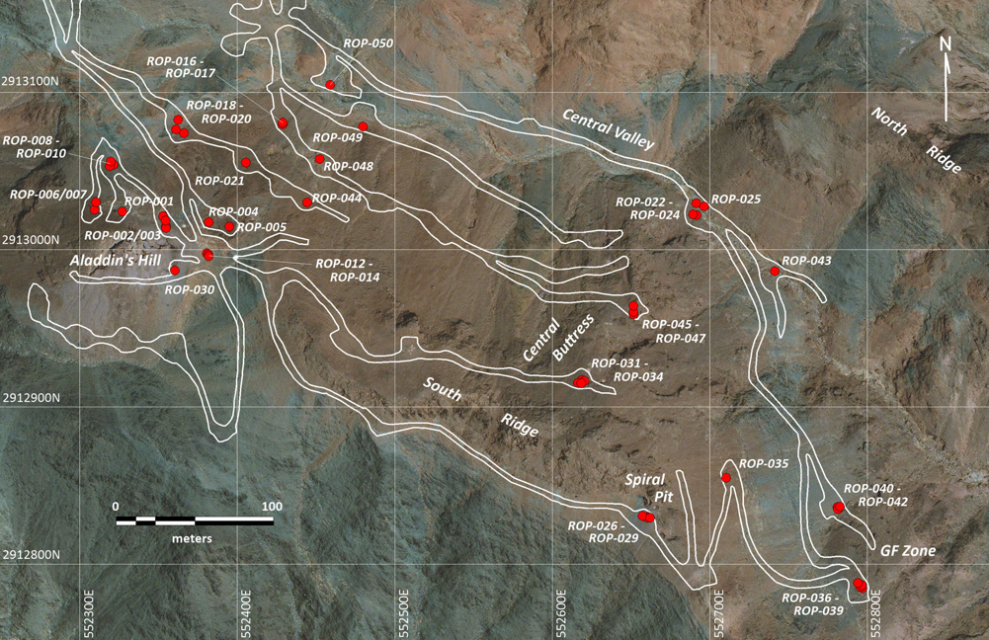 At Aladdin's Hill only 3 holes tested the phyllic-hosted mineralization. All 3 holes returned wide mineralized intersections from surface, with hole ROP-003 returning 56m @ 8.20 g/t Au from surface, and hole ROP-030 returning 46m @ 1.75 g/t Au, also from surface. 2 narrow very high-grade zones were intersected in hole ROP-003, confirming the interpretation that the ancients were mining very high grade zones underground at Aladdin's Hill.
Other holes in the immediate and very structurally complex Aladdin's Hill area tested gossanous carbonate-hosted mineralization, with several of the holes having to be abandoned after encountering very extensive near-surface ancient underground workings. Intersections included 39m @ 1.81 g/t Au, from surface (ROP-004) and 28m @ 1.71 g/t Au, from 14m (ROP-012).
Drilling to the northeast of Aladdin's Hill also intersected a surface zone of high grade oxide zinc-gold mineralization, including hits of 34m @ 8.86% Zn and 1.39 g/t Au, from surface (ROP-017), and 17m @ 5.98% Zn and 2.21 g/t Au (ROP-048), also from surface. Holes ROP-017 and ROP-050 also intersected deep, primary mineralization in sulphidic carbonates, associated with Ag, Cu and Zn mineralization with hole ROP-017 being mineralized from surface to 163m downhole depth. The identification of wide zones of sulphide mineralization is very significant, as these are interpreted as being the deeper hypogene equivalent of the gossan-hosted mineralization seen over large areas of the South Ridge, and indicates the potential for a large bulk tonnage gold deposit at Rodruin. Intersections of sulphidic carbonate-hosted mineralization include 55m @ 1.23 g/t Au and 1.40% Zn, from 108m (ROP-017) and 61m @ 1.55 g/t Au and 0.86% Zn, from 111m (ROP-050).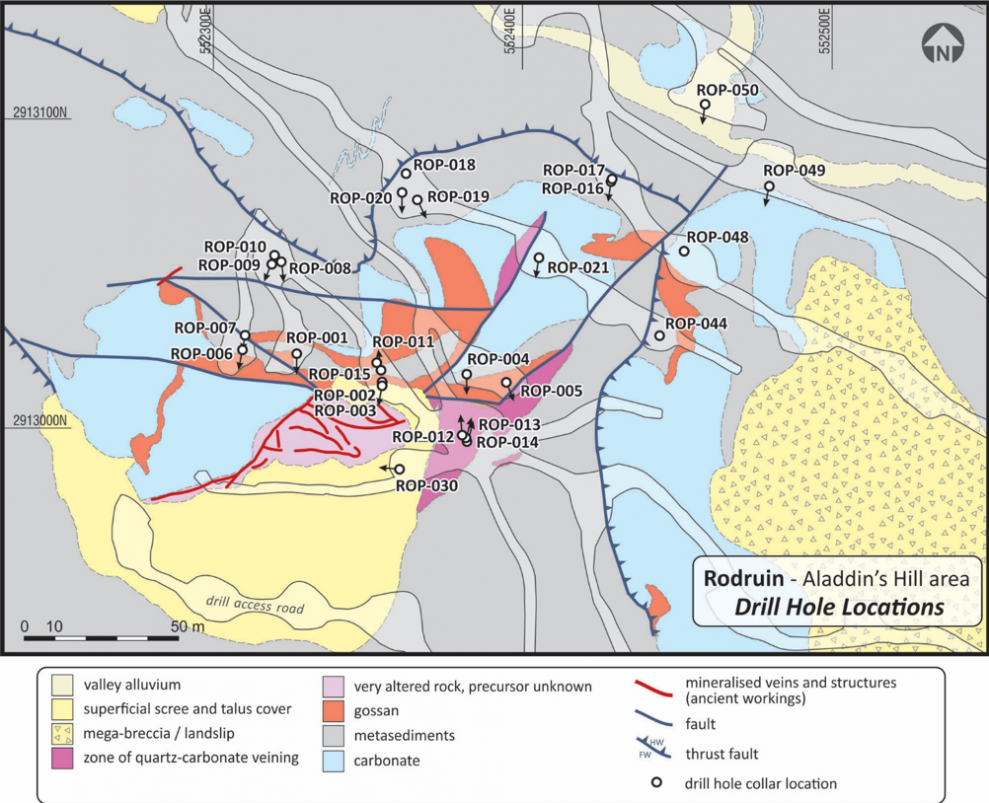 The Central Buttress zone ("CBZ") is a rib of carbonate and gossan that runs down the north side of the South Ridge, approximately 300m east-southeast of Aladdin's Hill, and has extensive workings from the summit of the ridge almost all the way down to the Central Valley. Due to the difficult topography through this area, associated with hard outcropping carbonates, drill access is not straightforward, and preliminary drilling was undertaken from 2 pads on the CBZ, as well as from the Central Valley.
Wide zones of gossan-hosted gold mineralization were intersected in many of the holes including 70m @ 1.16 g/t Au, from 11m (ROP-047), 40m @ 1.30 g/t Au, from surface, and 15m @ 3.95 g/t Au, from 55m (ROP-032), and 36m @ 2.15 g/t Au, from surface (ROP-034). Encouragingly, deep workings and high grade mineralization were encountered in hole ROP-032, indicating the likely presence of significantly higher grade zones within the overall mineralization at the CBZ.
The Spiral Pit ("SPZ") is another significant deep underground working approximately 100m southeast of the upper CBZ, which is a possible structural analogue to the Aladdin's Hill area, and has returned samples grading up to 35 g/t Au from underground. It is quite possible that the mineralization at the SPZ is related to and is contiguous with the mineralization on the upper CBZ, and is obscured under shallow scree cover.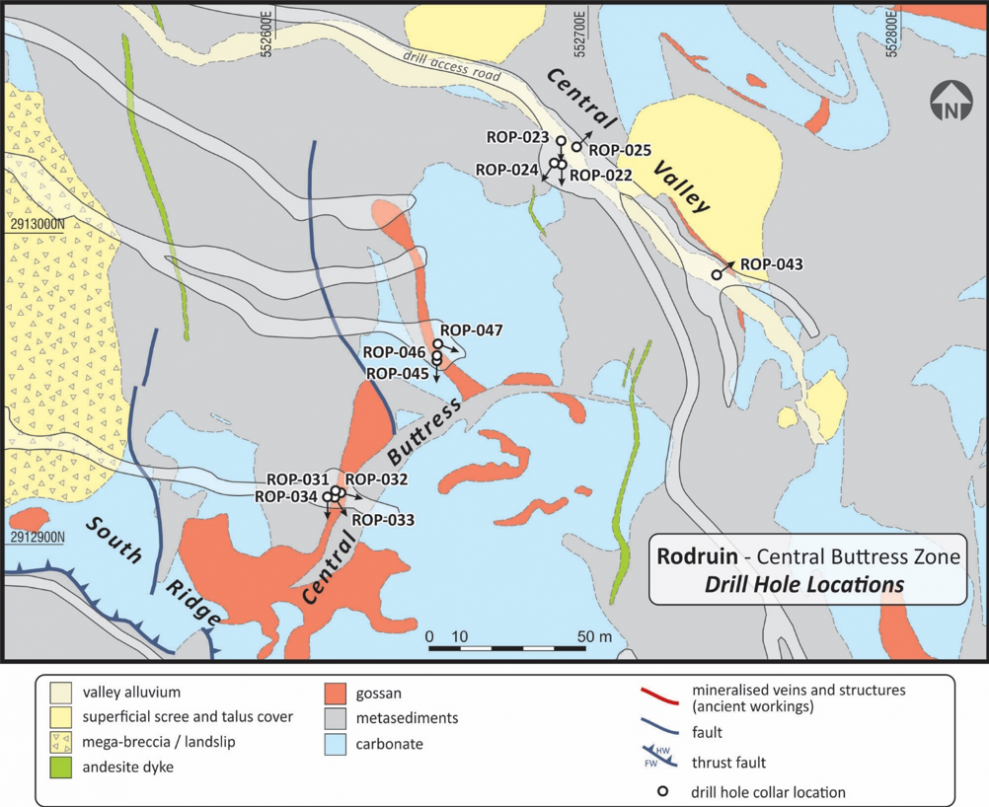 4 holes were drilled from a single pad at the SPZ, all of which hit structurally-controlled mineralization in gossanous carbonates from surface. Best intersections included 30m @ 3.21 g/t Au (ROP-029), and 36m @ 1.98 g/t Au (ROP-026), both from surface. The presence of wide zones of higher grade mineralization at surface at the SPZ is encouraging, and the structural similarities to Aladdin's Hill suggest the potential development of discrete structurally controlled high grade zones within the overall mineralization at the SPZ.
The GF Zone ("GFZ") is another zone of outcropping dark brown strongly gossanous carbonate, with extensive workings located about 150m further east of the SPZ. Again drill access is not easy due to the rugged topography, and it has been preliminarily drilled from 2 separate pads. All the holes were consistently mineralized from surface on both pads, with wide intersections including 29m @ 1.59 g/t Au (composite intersection from holes ROP-036 and ROP-037), 40m @ 0.74 g/t Au (ROP-039), and 35m @ 0.83 g/t Au (ROP-042), all from surface. The GFZ appears to represent a consistent outcropping block of gossanous carbonate-hosted mineralization that runs all the way down into the Central Valley and probably continues under the North Ridge.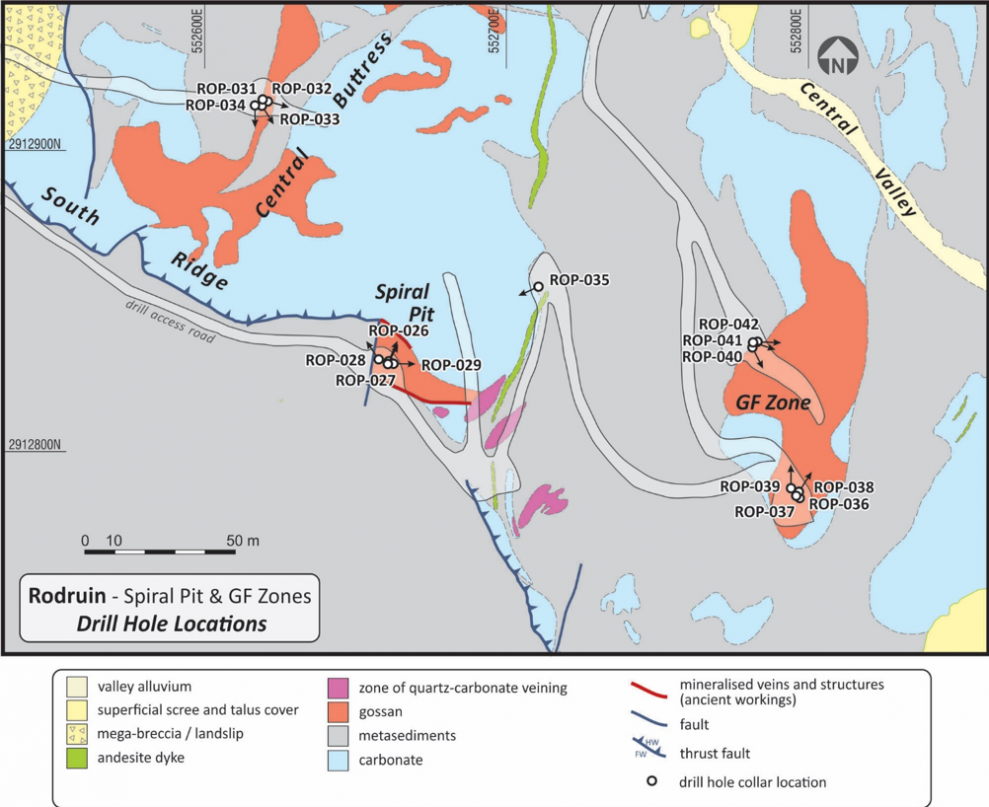 The Phase 1 RC drilling programme has successfully identified the presence of wide zones of potentially economic grade oxide mineralization at surface over much of the South Ridge at Rodruin, as well as identifying deep sulphide mineralization, believed to be the hypogene equivalent of the surface oxide mineralization. Higher grade zones have been drilled at Aladdin's Hill, the CBZ and the SPZ, confirming the results of surface sampling programmes and Aton's interpretation of significantly higher grade structurally controlled zones within the main body of gossanous carbonate-hosted mineralization.
The presence of significant zones of oxide mineralization at surface is very encouraging as this material is likely to be highly amenable to very low strip ratio open pit mining, and leaching as a probable processing route. Furthermore the identification of the primary sulphide equivalent of the oxide mineralization at depth suggests the potential for the development of a large bulk tonnage body of gold-(silver-zinc) mineralization at Rodruin.
Aton intends to resume drilling at Rodruin as soon as possible, with a view to following up on the Phase 1 programme, notably to expand the areas of surface oxide mineralization but also to try to further test the likely potential extent of the sulphide mineralization at depth. Further drilling, road cut excavation, mapping and surface sampling is required to resolve many of the structural complexities that remain. Aton also intends to access the North Ridge with a view to preliminarily drill testing the very high grade mineralization sampled at surface.
Hole ID

Intersection (m)

Au (g/t)

Ag (g/t)

Zn (%)

Zone

From

To

Interval

ROP-002

0

59

59

0.90

8.6

0.85

Aladdin's Hill

ROP-003

0

56

56

8.20

7.5

0.17

Aladdin's Hill

ROP-004

0

39

39

1.81

14.7

0.86

Aladdin's Hill

ROP-009

40

45

5

4.65

3.5

0.49

Aladdin's Hill

ROP-012

14

42

28

1.71

13.8

1.70

Aladdin's Hill

98

144

46

0.46

16.1

0.19

ROP-013

13

41

28

1.19

15.3

0.75

Aladdin's Hill

80

95

15

1.62

7.4

0.52

135

156

21

0.55

8.9

0.02

ROP-014

17

51

34

1.28

8.9

0.88

Aladdin's Hill

ROP-017

0

163

163

0.90

7.4

2.54

Aladdin's Hill NE

ROP-018

1

8

7

3.99

7.8

1.20

Aladdin's Hill NE

ROP-020

4

16

12

1.63

5.3

0.66

Aladdin's Hill NE

46

70

24

0.68

5.7

0.24

ROP-024

11

43

32

0.92

7.0

0.21

Central Valley

ROP-026

0

36

36

1.98

19.7

0.37

Spiral Pit

ROP-029

0

30

30

3.21

13.8

0.47

Spiral Pit

ROP-030

0

46

46

1.75

4.0

0.27

Aladdin's Hill

ROP-032

0

40

40

1.30

13.5

0.19

Central Buttress

55

70

15

3.95

18.8

0.22

ROP-033

2

48

46

1.58

7.3

0.10

Central Buttress

ROP-034

0

36

36

2.15

11.7

0.09

Central Buttress

42

52

10

1.53

14.6

0.07

ROP-036/037

0

29

29

1.59

4.4

0.13

GF Zone

ROP-039

0

40

40

0.74

2.6

0.15

GF Zone

ROP-042

0

35

35

0.83

4.4

0.27

GF Zone

ROP-045

17

35

18

1.74

9.2

1.08

Central Buttress

ROP-046

32

65

33

0.92

7.1

0.33

Central Buttress

ROP-047

11

81

70

1.16

8.3

0.29

Central Buttress

ROP-048

0

17

17

2.21

6.8

5.98

Aladdin's Hill NE

ROP-050

111

172

61

1.55

8.9

0.86

Aladdin's Hill NE

Notes

1) Intersections calculated using a 0.3 g/t Au cutoff grade, with a minimum downhole width of 2m
Selected intersections from the Phase 1 RC drilling programme at Rodruin