Rodruin
HISTORY
The Rodruin prospect was discovered by an Aton field team in early December 2017, following up on the area after it was identified using spectral imaging and remote sensing techniques. High grade tailings (>20 g/t Au) had previously been identified in large volumes and sampled at the Eradiya East area, although the source of the mined ore was unknown. Subsequent field investigation in the general area led to the identification of extensive and technologically advanced ancient processing sites in the area to the west of Rodruin.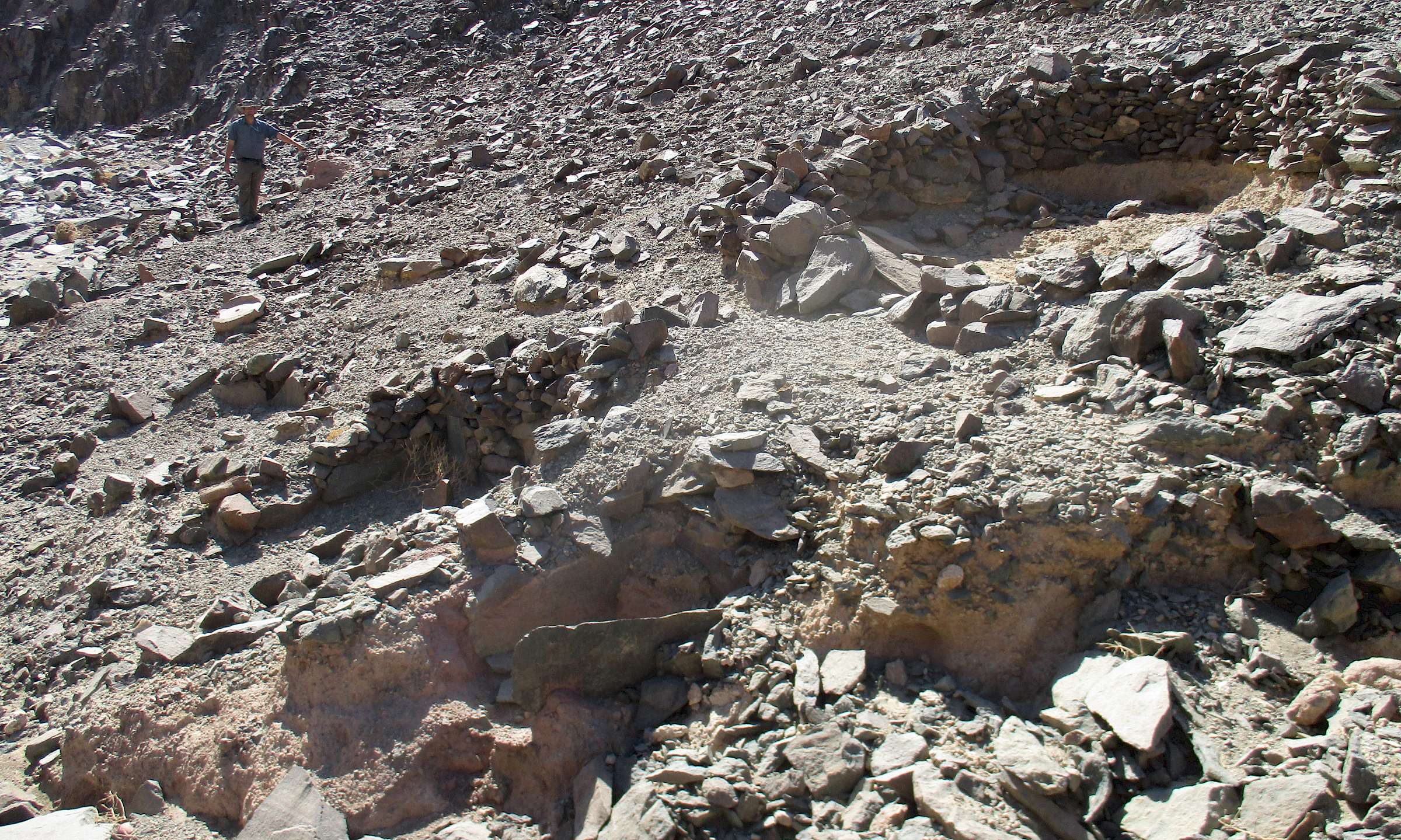 Identification of rotary mills, and stepped dams and washing tables in the general Eradiya area suggested the workings were of Early Arabic age (ninth to eleventh centuries AD), and the high grade of the sampled tailings suggested the processed ore had a significantly high grade. All the archaeological evidence pointed to the Eradiya East site being a significant processing site for a major but previously unidentified mining area.
Subsequent detailed evaluation of satellite imagery and the presence of a clay-iron spectral anomaly led to the selection of the relatively remote Rodruin target for field inspection.
An Aton field team visited the site on December 4, 2017, and identified numerous ancient workings workings around Aladdin's Hill, associated with outcrops of gossan at surface, and it was immediately recognised that the Rodruin area represented a potentially very significant new discovery. Subsequent field visits indicated the existence of ancient workings spread over a large area on both the South and North Ridges at Rodruin. Between discovery and February 2018 several phases of surface sampling were undertaken and reported, as well as underground sampling at Aladdin's Hill and at the Spiral Pit. These programmes returned samples grading up to 321 g/t Au from workings on the North Ridge, and up to 35 g/t Au from the Spiral Pit, confirming Aton's belief that the ancient miners were mining high grade material at Rodruin. Visible gold has been identified from numerous samples, in places quite coarse and abundant.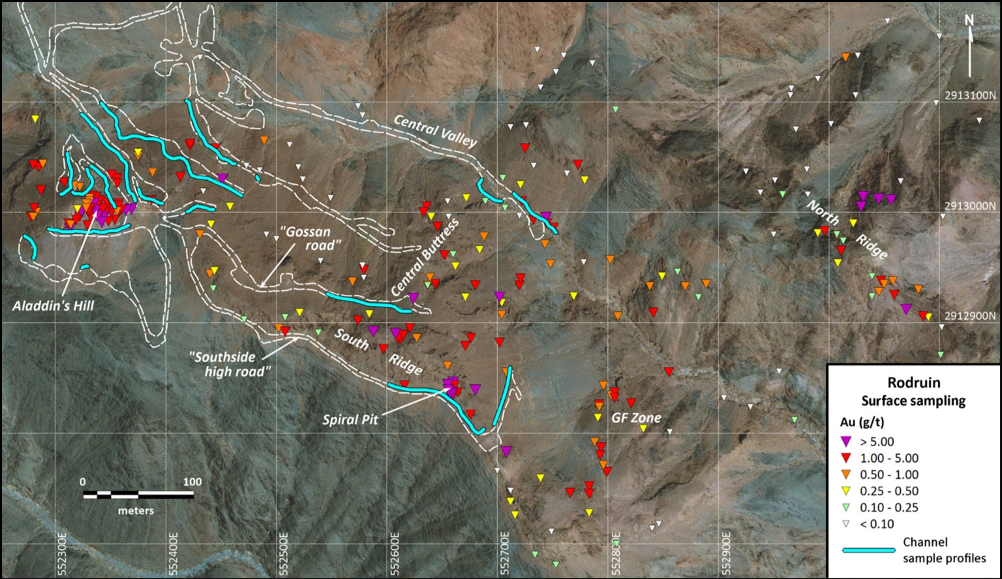 Construction of an access road was started in March 2018, and this was completed in July, immediately after the Ramadan shutdown. The 4.5km road was started in the main access wadi to the west of Rodruin and about 1.5km to the south of the Eradiya East processing site. As soon as the excavator arrived at Aladdin's Hill work was started on the construction of drill access roads and drill pads ahead of the upcoming RC drilling programme. As work progressed on the access roads significant mineralization that had been partially or totally covered by scree was exposed, and a programme of mechanical saw-cut channel sampling of the road cuts was commenced. This has indicated widespread Au (-Zn) mineralization at surface with several wide mineralized intervals.

Profile ID

Intersection (m)

Au (g/t)

Zn (%)

Location

From

To

Interval

ROC-002

0.0

48.6

48.6

2.12

0.91

Aladdin's Hill

ROC-003

0.0

62.6

62.6

2.34

1.49

Aladdin's Hill

ROC-004

0.0

25.5

25.5

4.74

0.64

Aladdin's Hill

ROC-005

0.0

64.9

64.9

2.29

0.21

Aladdin's Hill

ROC-006

20.5

37.0

16.5

2.15

0.55

Aladdin's Hill

ROC-008

10.0

46.0

36.0

2.09

0.65

Aladdin's Hill

ROC-009

0.0

65.3

65.3

2.84

5.26

Aladdin's Hill

ROC-011

34.8

56.6

21.8

1.17

0.11

Central Valley

ROC-012

0.0

13.0

13.0

1.41

4.58

Aladdin's Hill

ROC-017

58.0

108.3

50.3

1.37

0.56

Spiral Pit
Significant mineralized intersections from surface channel sampling profiles, September 2018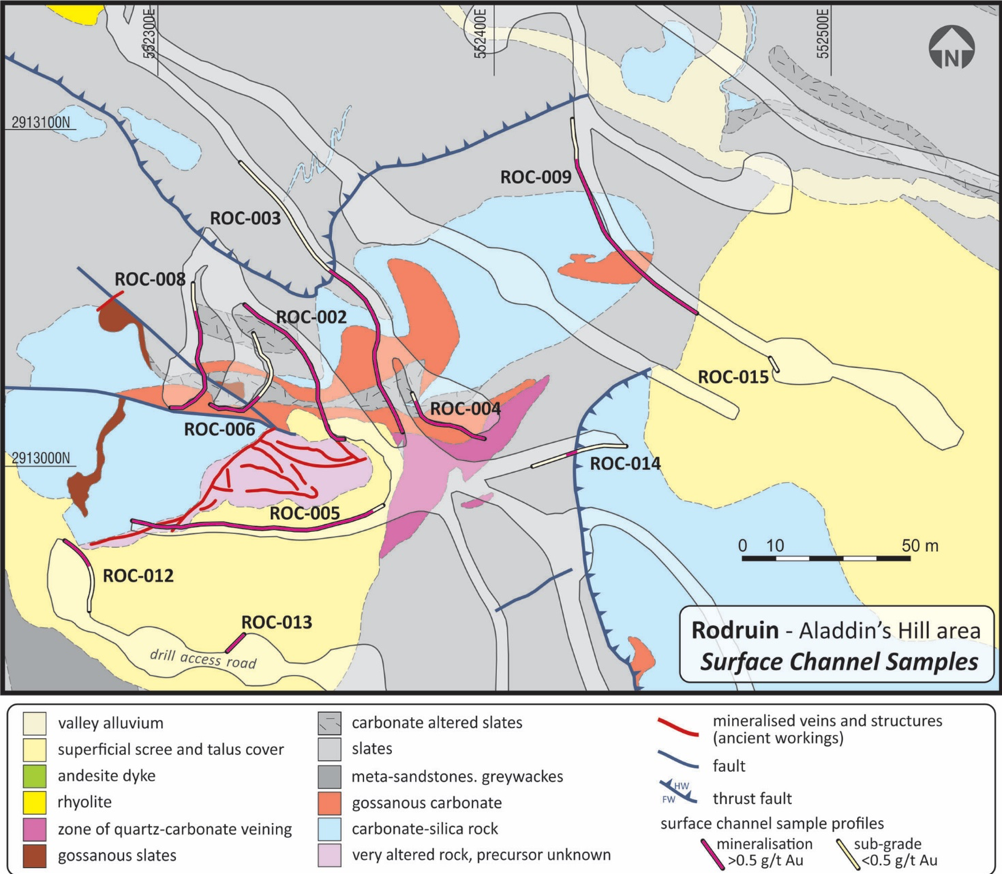 RC drilling commenced at Rodruin in late August 2018, with the assay results from the first 3 holes received in late September, including an intersection of 36m @ 12.47 g/t Au from the main zone of high grade ancient workings at Aladdin's Hill (Read the full press release here).